We may earn money or products from the companies mentioned in this post.
Introduction
Planning and throwing a Halloween bash for teens can be an exciting and fun experience. As a host, it gives me the opportunity to create a memorable event that brings together friends and showcases their unique personalities. However, in order for the party to be a success, careful planning and organization are essential. In this post, I will share some spooktacular tips on how to throw a boo-tiful Halloween bash for teens.
Why throwing a Halloween bash for teens can be exciting and fun
Halloween is a favorite holiday for many teenagers who enjoy dressing up in creative costumes and embracing the spooky spirit. By hosting a Halloween bash, I can provide a safe and fun environment for teens to enjoy the festivities. It's an opportunity for them to socialize, engage in Halloween-themed activities, and unleash their creativity through costume contests, pumpkin carving, or themed games.
The importance of planning and organizing for a successful party
A successful Halloween bash requires careful planning and organization. I need to determine the date, time, and location well in advance to ensure maximum attendance. Creating a detailed checklist of tasks, such as decorations, food and drinks, music playlist, and entertainment, is crucial. By setting deadlines and enlisting help from friends or family, I can manage the workload effectively and ensure everything is ready on time.
Creating a spooky yet age-appropriate atmosphere
When planning a Halloween bash for teens, it's important to strike a balance between spooky and age-appropriate. Decorating the venue with eerie lighting, cobwebs, and jack-o'-lanterns can create a suitably haunting atmosphere, while avoiding excessively scary elements. Incorporating themed music playlists and planning interactive games or activities can enhance the overall experience and keep the teens entertained throughout the party.
By following these tips and putting in some effort into the planning process, I can throw a memorable and enjoyable Halloween bash for teens. It's an opportunity to bring friends together, encourage creativity, and create lasting memories. So grab your broomsticks, don your costumes, and get ready for a boo-tiful Halloween extravaganza!
Choosing the Perfect Theme
Halloween is such an exciting time of year, especially for teenagers who love to dress up, have fun, and get into the spooky spirit. When it comes to throwing a Halloween bash for teens, one of the first things to consider is choosing the perfect theme.
Selecting a theme that appeals to teenagers
As a party host, it's important to choose a theme that will capture the attention and excitement of your teenage guests. Think about their interests and what is currently popular among teens. A theme that appeals to their sense of adventure and creativity will surely make your party a hit.
Ideas for unique and creative Halloween party themes
Why not go beyond the usual ghost and vampire themes? Get creative with unique and unexpected ideas that will make your party stand out. How about a haunted carnival or a zombie apocalypse? These themes can be brought to life through decorations, costumes, and even games.
Incorporating popular trends or movies into the theme
Teenagers are often influenced by popular trends and movies. Consider incorporating some of these elements into your Halloween party theme. Whether it's a superhero theme inspired by the latest blockbuster or a throwback to a classic horror movie, using familiar references will keep your guests engaged and excited.
Remember, choosing the right theme will set the tone for your entire Halloween bash, so make sure it reflects the interests and preferences of your teenage audience. Get creative, have fun, and get ready for a spooktacular night!
2. Invitations and Decorations
Designing eye-catching and themed invitations
When it comes to throwing a spooktacular Halloween bash for teens, the first step is to create invitations that set the tone for the party. As the host, I love getting creative and designing eye-catching invitations that match the Halloween theme. Whether it's a haunted house, zombies, or witches, there are endless possibilities to explore. I use online templates or create my own using editing software to add spooky fonts, eerie images, and alluring colors, making sure to include all the necessary party details.
Creating spooky decorations on a budget
Decorations play a vital role in transforming any venue into a haunted wonderland. To keep within a budget, I like to DIY my decorations using simple materials like cardboard, construction paper, and tissue paper. Crafting spooky skeletons, hanging ghosts, and creepy spider webs give the party a chilling atmosphere without breaking the bank. I also love incorporating Halloween-themed tablecloths, pumpkins, and candles to add that extra touch of spookiness.
Utilizing lighting and props to enhance the ambiance
Lighting and props can significantly enhance the overall ambiance of the Halloween bash. I opt for dim or colored lighting to create an eerie atmosphere. Strategically placing black lights, glow sticks, and strobe lights transforms the space into a haunted extravaganza. In addition, utilizing props such as fog machines, cobwebs, and spooky sound effects adds an extra layer of creepiness to the entire setting.
Now armed with these tips, you can make sure your Halloween party is a boo-tiful success! Get creative with your invitations, craft spooky decorations on a budget, and use lighting and props to create a hauntingly spectacular ambiance. Happy Halloween planning!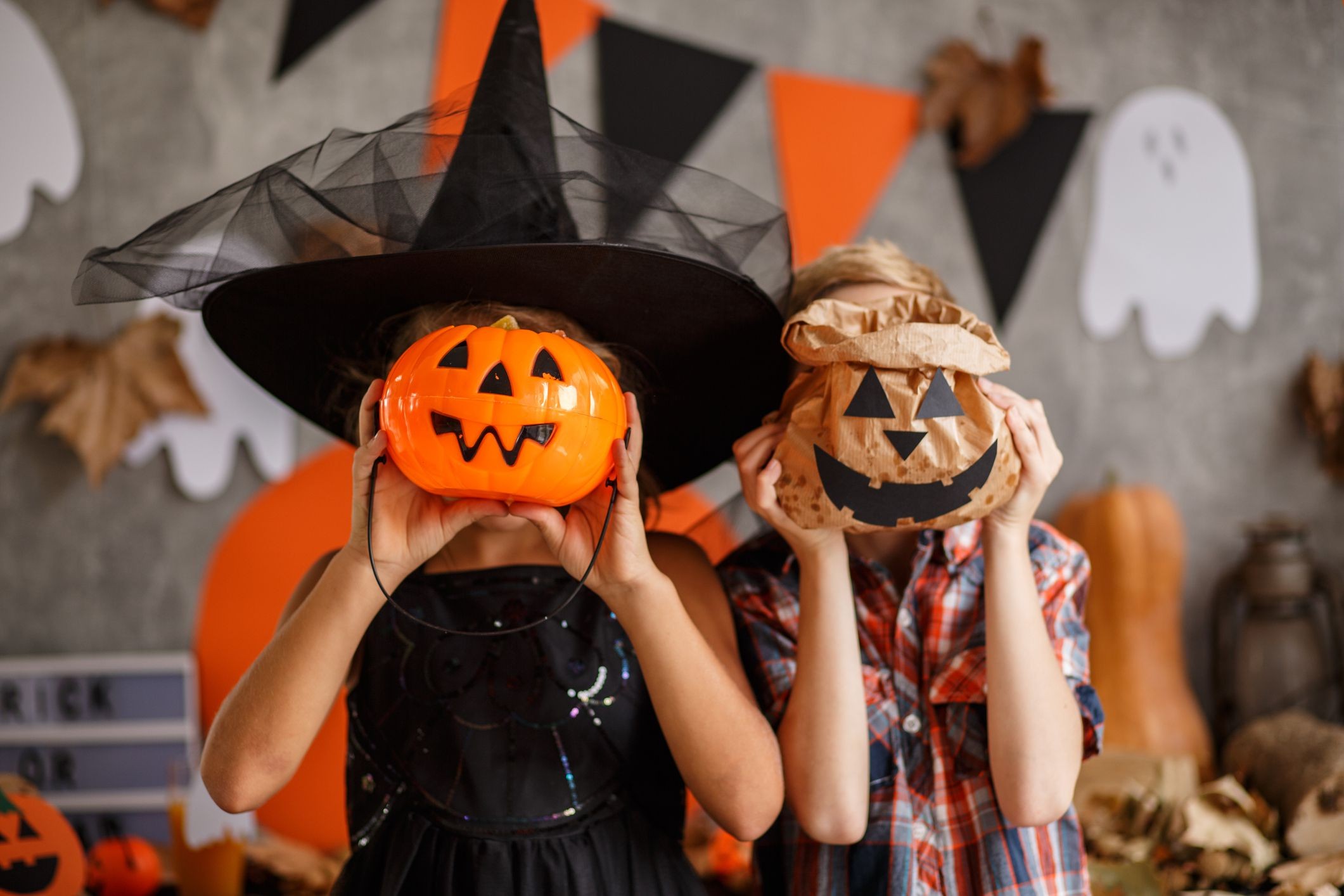 3. Deliciously Spooky Treats
Throwing a Halloween bash for teens involves more than just spooky decorations and costumes. It's important to cater to their taste buds as well. So, I've come up with some deliciously spooky treats that will surely be a hit at your bash.
Ideas for Halloween-themed snacks and desserts
When it comes to Halloween-themed snacks, the possibilities are endless. From creepy crawly gummy worms in Oreo dirt cups to ghostly marshmallow pops, there are plenty of ideas to choose from. You can also get creative by serving witch finger pretzel rods or mummy hot dogs. These snacks not only taste great, but they also add to the spooky ambiance of your party.
Simple and fun recipes that teens will enjoy
Teenagers love quick and easy recipes, so keep it simple and fun. Whip up some monster cookies by adding candy eyes and colorful sprinkles to your favorite cookie dough. Or, make some spooky popcorn by tossing it with melted white chocolate and adding Halloween-themed candies.
Catering to dietary restrictions and preferences
It's important to consider the dietary restrictions and preferences of your guests. If some of them are vegetarian or vegan, you can make vegan cupcakes or serve a selection of fresh fruit. Additionally, you can provide gluten-free options like Halloween-themed rice crispy treats made with gluten-free cereal.
By incorporating these deliciously spooky treats into your Halloween bash, you're guaranteed to satisfy the taste buds of all your teen guests and make your party a boo-tiful success!
4. Thrilling Halloween Games and Activities
Planning a Boo-tiful Halloween bash for teens requires more than just creepy decorations and tasty treats. To keep the party alive and entertaining, engaging games and activities are a must. In this section, I'll share some spooktacular ideas that will keep your teenage guests thoroughly entertained throughout the night.
Engaging and interactive games for teenagers
Teenagers love to have fun and be part of the action. Engage them in thrilling games that will get their hearts racing. Try organizing a mummy wrapping contest, where teams compete to wrap each other with toilet paper the fastest. Another exciting game idea is "Zombie Tag," where one person starts as the "zombie" and has to chase and tag others to turn them into zombies too.
Scary movie trivia or scavenger hunts
For movie buffs, a spooky movie trivia game will test their knowledge of classic horror films. Create a list of questions related to famous horror movies and award prizes to those who answer correctly. Alternatively, organize a scavenger hunt with Halloween-themed clues hidden throughout your haunted house or backyard. Teens will love the challenge and adventure of searching for the hidden treasures.
Creating an eerie atmosphere with spooky activities
Make your Halloween bash unforgettable by incorporating eerie activities. Set up a "mad scientist" station where guests can create their own weird and wacky potions using colorful ingredients. Another idea is to have a fortune-teller booth where a mystical guest can provide creepy predictions and insights. These activities will add an extra layer of excitement to your party and keep everyone engaged.
With these thrilling games and activities, your Boo-tiful Halloween bash for teens will be a memorable event that they will be talking about for years to come. Let the spooktacular fun begin!
5. Costume Contest and Makeup Tips
When it comes to throwing a spooktacular Halloween bash for teens, a costume contest is a must! It's an exciting way for everyone to showcase their creativity and have a chance at winning some awesome prizes. To make it even more thrilling, consider offering prizes like gift cards, movie tickets, or even a trophy for the best costume.
To ensure a wide variety of unique and creative costumes, encourage your guests to think outside the box. Provide them with tips and suggestions for DIY costumes that can be easily put together with items they already have at home. Whether it's turning a white sheet into a ghost costume or transforming an old prom dress into a zombie bride ensemble, giving your guests ideas will inspire them to get creative.
But costumes alone are not enough to make a Halloween bash truly boo-tiful. To take it up a notch, suggest using makeup and special effects to enhance their costumes. From gory wounds and scars to mystical fairy makeup, the possibilities are endless. Encourage your guests to experiment with makeup tutorials they can easily find online or even hire a professional makeup artist to join the party and create stunning looks.
With these costume contest and makeup tips, your Halloween bash for teens is guaranteed to be a spooky success!
Spooky Music and Dance Floor
Playlist suggestions for a hauntingly good time
When it comes to throwing a boo-tiful Halloween bash for teens, one thing you can't overlook is the music. A carefully curated playlist can set the perfect eerie atmosphere and keep the partygoers grooving all night long. For a spooktacular experience, consider including some Halloween classics like "Thriller" by Michael Jackson and "Monster Mash" by Bobby "Boris" Pickett. These timeless hits are sure to get everyone in the ghostly spirit.
But don't stop there! Get creative and add some modern hits with a creepy twist. Songs like "Dark Horse" by Katy Perry and "Ghostbusters" by Ray Parker Jr. will bring a contemporary vibe to your playlist while still keeping with the Halloween theme.
Creating an energetic and Halloween-themed dance floor
To take your Halloween bash to the next level, you'll want to transform your dance floor into a wickedly fun and spooky space. Start by using black lights and strobe lights to create an eerie ambiance. You can also add fog machines for an extra touch of mystery.
Decorate the dance floor with spider webs, tombstones, and fake cobwebs to give it a haunted house feel. Scatter some plastic spiders around to add a creepy crawliness to the atmosphere. Remember, the goal is to create an immersive experience that will transport your partygoers to a haunted wonderland.
Incorporating popular dance trends or themed dances
To keep the dance floor buzzing, incorporate popular dance trends and themed dances. Stay up-to-date with the latest TikTok dances and teach them to your guests. This will not only keep the energy high but also provide a great opportunity for everyone to let loose and have a blast together.
You can also organize themed dances that match the Halloween spirit. Plan a "Zombie Shuffle" or a "Witch's Wobble" dance-off to get everyone participating and showcasing their best moves. Providing prizes for the winners will add an extra element of excitement and encourage everyone to join in on the fun.
With these spooktacular tips, your Halloween bash is guaranteed to be a boo-tiful and memorable event for all the teens. So, get your playlist ready, decorate your dance floor, and let the ghoulish festivities begin!
Conclusion
Phew, what a frightfully fun journey we've had exploring all the spooktacular tips for throwing a boo-tiful Halloween bash for teens! We've covered everything from creating the perfect spooky atmosphere to planning entertaining activities and delectable treats. Now, let's quickly recap the key tips to ensure your Halloween bash is a smashing success.
Recap of the key tips for a successful Halloween bash for teens
Firstly, focus on creating a captivating atmosphere with eerie decorations, dim lighting, and haunting music. Transform your space into a haunted hideaway that will leave your guests mesmerized and enchanted.
Secondly, plan engaging activities that will keep everyone entertained throughout the night. From spooky scavenger hunts to thrilling costume contests, these interactive games will ensure your guests have a wickedly good time.
Lastly, don't forget to tantalize their taste buds with devilishly delicious treats. Whip up some creepy confections and ghoulish beverages that will not only look spooky but also taste deliriously delightful.
Emphasizing the importance of creating a memorable experience
Remember, the key to a successful Halloween bash lies in creating a memorable experience that will stay with your guests long after the night is over. So, let your creativity and imagination shine through every element of your party, making it a truly unique and unforgettable event.
So go ahead, gather your ghouls and goblins, and get ready to throw the most epic Halloween bash for teens ever! Your guests will surely be dying to come back next year. Happy haunting!